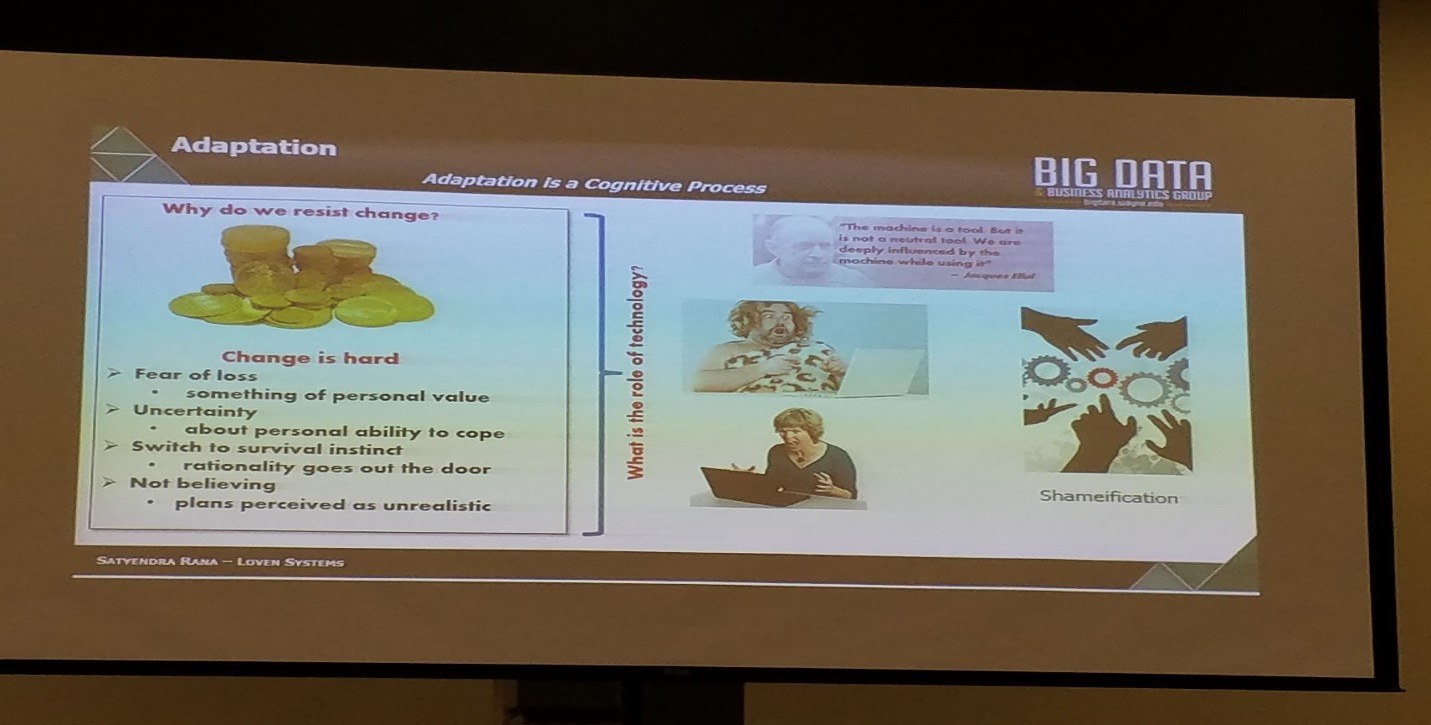 During a recent press conference, a teared eye CEO of a major multinational communications and information technology company stated "we didn't do anything wrong, but somehow, we lost", as a result of a 150 year old company being acquired for not keeping up proactively with the world's ever-changing landscape of market's demands.
This case has been much debated and it is interesting to observe the causes and effects. Research shows no lack of direction or strategy within the company and a predominant opportunity to remain the largest provider of this type in its industry, having produced the right prototypes of what became the most popular technologies released by competitors- that have ultimately created a boom in the demand. You probably didn't have to wonder but you already guessed it. What went wrong?  A lack of urgency in execution and dismissal of the crucial metrics indicators for a very obvious target market. This is also confirmed by the expenses incurred as part of the acquisition as an "impairment charge" incorporating an investment in research and development and operations, yet no productionizing or having any return on investment.
Kotter International, an accelerated business strategist organization, also indicates that today's business environment requires a different perspective: "The windows of opportunity are opening and shutting much faster than they have before. The same goes for threats, whether it be new entrants into the market or new technology", said Justin Wasserman.
Maintaining a comfortable position in an industry leader status can create false security leading to a lack of proactivity and the cost of loss stripping the market of innovation. It goes to prove that being the first to a good idea is no guarantee to a commercial success even in strong and established organizations where there is resistance to change and not an execution of a unified corporate vision, and from the customer perspective, 56% of consumers stop doing business with a brand after a customer experience failure- a judgment quickly formed based of an overall satisfaction assessment in customer experience that rapidly spread in social media.
This is the very reason why I chose the topic. Far too many companies with great potential but a massive bureaucratic system division are impaired in their growth that delaying their progress and ultimately sinking the 'Titanic'. The bigger the company the more massive the disadvantage in the face of an innovation revolution. Why?
A PWC research on surveying companies, states that linking priorities to decisions is a hurdle that few companies can get past. According to the survey, executives report that "their biggest challenges are (a) allocating resources in a way that really supports the strategy (56%) and (b) ensuring that day-to-day decisions are in line with the strategy (55%)". On top of it, if these processes present a cause of continual delay within the technology field with innovation at its heartbeat, the price of remaining the same can eliminate an organization from the game completely.
In a Stay ahead of the game, Amanda Steili, author of "The Agility Advantage: How to Identify and Act on Opportunities in a Fast-Changing World," suggests that there is a tremendous importance in identifying keys to capitalizing on opportunities being created in the marketplace, and moving the organization in that direction: "Learning to be agile can't be part of future plans – it must happen now."
Susan Athey, a Stanford Graduate School of Business economics professor explains that more companies are collecting and analyzing data as a way to stay competitive and innovative. It's been shown that when companies inject data and analytics deep into their operations, they can boost productivity and profit that is 5% to 6% higher than the competition.
When it comes to business performance and the strategies that can be adopted in this date and age, one of the most important factors to consider is your data. More heads are turning towards data analysis as an important factor leading to meeting business objectives. The very historical /prescriptive data you possess is an important asset with hidden nuances and characteristics that can lead an organization in its ability to take the next step.
First, your analytical landscape can be charged toward the phenomenon that has revolutionized the technology industry for the last few years called "data-driven".  As a first step modernizing your data warehouse where the architecture sustains constantly evolving data, provides the flexibility and scalability to rapidly meet ever-changing demands in the industry s ever-changing landscape. This can be performed easily with several technologies such as Apache Spark, Apache Cassandra, HBase, HIVE, and Impala to name a few.
Developing the data can provide customer insights with the application of additional technologies such as Scala, Play Framework, Kafka, D3JS, and identifying the customer acquisition channels, sales mix, customer retention, and customer lifetime value can simply reveal pattern visualization extracted from the data set.
Taking in consideration the possibility of analyzing real-time will give you the most agile ability to act upon decisions. Examples of subject areas that would benefit from these capabilities would be predicting inventory levels, store traffic, market basket patterns, monitoring sales, etc..
As an example, for the financial sector performing in transaction fraud analytics is a priority, revealing the capacity to predict behavior and identify whether or not a fraudulent transaction.. DataFactZ Solutions using Apache Spark on IBM mainframe brings precise solutions for this industry's priorities using advanced machine learning methodologies.
As we speak, there are many reoccurring events and workshops that offer a discovery of a variety of methodologies for getting value out of data, improving business performance, catching the wave with their competitors, improving and becoming relevant and cost-efficient ways as well as staying abreast of the market. One of these events is the Wayne State University Big Data Symposium, hosted with a vision of closing the gap between the talents of academia and emerging business industries thus creating a synergy that   "will form the foundation for a new wave of innovation and growth".
At the Big Data and Analytics event, you could observe how expert practitioners, using methodologies and technologies were exchanging practical ideas and insights charting out a new course of competitive advantage and growth.  This led decision-makers alike to empower their organizations by approaching properly pragmatic issues managing and analyzing the data captured through marketing, product development, manufacturing, distribution, sales, and service in a global setting.
DataFactZ has a strong presence in this community, proven to maintain itself abreast of the culminant shifts in the data analytics market the company has developed a pragmatic and interdisciplinary approach, which has evolved over the decades, proactively continuing to have an eye for emerging demand, incorporating a holistic ecosystem of technologies partners and define efficient methodologies applicable to a variety of industries: https://vimeo.com/118924720?from=outro-embed
Some of the DataFactZ partners that are also part of the Big Data movement at Wayne State University were: Zementis, MapR, DataStax, Cloudera, IBM, Loven Systems, and Amazon (client).
And that fruition is reflected in the ongoing effort of 'demystifying analytics'- as the symposium leaders call it, bringing clarity to the performance of analytics, next-generation tools, technologies, and processes. And one example, part of the ' next generation ' category was mentioned by the CTO of Loven Systems (host company of Michigan Spark User Group), Dr. Satyendra Rana where he demonstrated that the data-driven approach ("naïve analytics") will soon be challenged by another path of excellence through quantification, reflection and adaption by cognitive analytics revealing the 'opportunity approach'.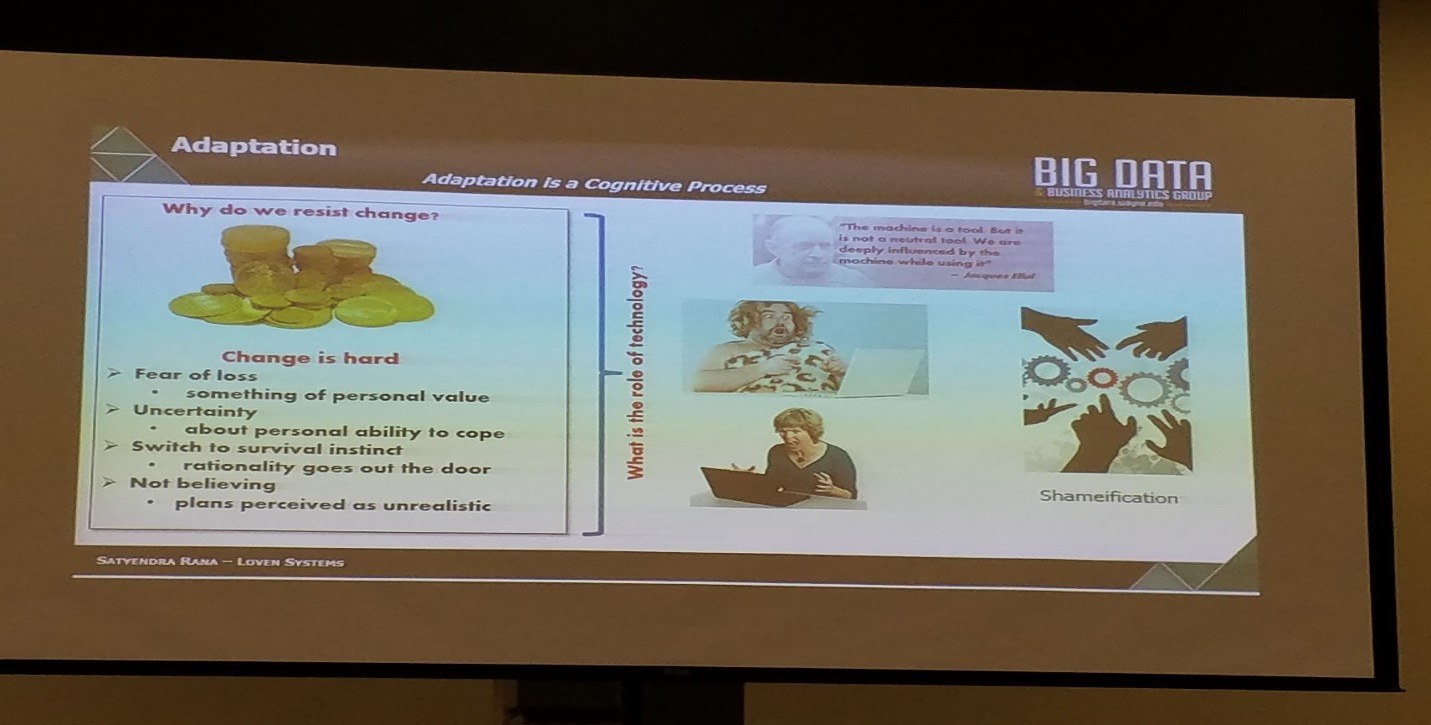 More about my research on the opportunity-driven approach to follow and remember: Agility isn't something you can leave to chance!
---
Accomplished at DataFactZ, a business analytics solutions company specializing in data engineering, data science and decisions science, Alina is a Business Development individual working with a passionate crowd and outstanding team of highly trained BI/ Big Data/ Data Sciences & Data Visualization experts including Developers, Modelers, Architects, Business Analyst, Data Scientists and PhD professors with exquisite expertise implementing complex Business Intelligence systems, DW Modernization, Big Data Infrastructure, Big data Application Development and Advanced Analytics (Predictive Models, Prescriptive Models, Machine Learning Algorithms, D3JS, R, SPSS, MatLab etc.). They are all about helping businesses make the right decisions by harnessing the power of Big Data!